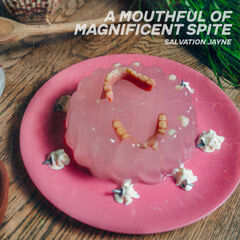 Catapulting onto the UK music scene in the early hours of 2020, Salvation Jayne has gradually sculptured themselves into reputable figureheads of alternative rock. Equipped with eruptive build-ups and riffs ready to combust, the 5-piece are on the narrow path to a sure-fire takeover.
Stemming from a mutual hatred for overcontrolling and nauseating beings, "A Mouthful Of Magnificent Spite"shoves away those mentalities and focuses on oneself.
Salvation Jayne tells us: "Sometimes there is constructive criticism, which is fine. Then there are also overpowering controlling opinions that are shoved down your throat when you haven't even asked for them. People like that exhibit this behaviour tend to thrive off of manipulating people into believing only what THEY think."
The track follows 'Violent Silence' & 'Cody', the lead offerings that kickstarted Salvation Jayne's debut era, with their forthcoming album 'A Mouthful Of Magnificent Spite' slated for release on February 18th 2022. The record will explore topic points of egotistical humans, narcissistic behaviour and gives the middle finger to COVID-19 for its grand finale.
"You are not the be–all and end–all, there's nothing I can't handle." The new track is a blinding representation of who Salvation Jayne are destined to be: loud, outrageous and ready for the world to soon become their stomping ground.
Having relentlessly toured around the UK with crowd-pleasers The Subways, Milk Teeth, Saint Agnes & Rews, the band have recently been pleasing crowds of their own with several sold-out headlining slots under their belt, making a name for themselves with their dynamic live performances.
Enlisting a keys player to tighten their craft as they approach the recording of their debut album at world famous Rockfield Studios, Salvation Jayne are ready to make an entrance with fresh material that packs the mightiest of punches.
Salvation Jayne's 'A Mouthful Of Magnificent Spite' will be available from November 12th 2021.
The album 'A Mouthful Of Magnificent Spite' will be available 18th February 2022
 TO FIND SALVATION JAYNE ONLINE, PLEASE VISIT: WEBSITE | FACEBOOK | INSTAGRAM | TWITTER