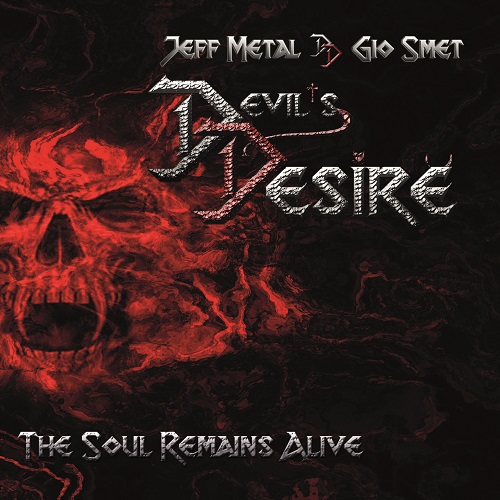 Debutalbum has been released on November 14, 2020 as an Independent Release
(Melodic Heavy Power Metal)
Talks about a new project began when Belgian guitarist/vocalist/songwriter/producer Gio Smet contacted Jefferson Moura Melo, aka Jeff Metal.
Gio saw the incredible talent the Brazil singer/guitarist has to offer.
Jeff's versatile voice fits the epic music, composed by the duo, perfectly.Thus, in the autumn of 2019, DEVIL'S DESIRE was born!
DEVIL'S DESIRE's music can be described as melodic yet heavy and powerful, with shredding guitarsolo's, pounding drums and memorable chorusses!
The lyrics are about the eternal struggle between good and evil and the choice between heaven or hell.
Can you fight the devil's desire..
Line up:
Jeff Metal – Vocals/Additional guitars
Gio Smet – Guitars/Bass/Keyboards/e-drums/Backing Vocals
Album:
The Soul Remains Alive
Release Date:
November 14th, 2020
Prodiced by:
Gio Smet & Jeff Metal
Recorded at:
MusicSoul360 by Gio Smet.
Jeff's vocals and guitars recorded at DS Productions
by Cleyton De Souza.
Mixed & Mastered at:
MusicSoul360 by Gio Smet.
Also discover DEVIL'S DESIRE on:Website: www.devilsdesire.eu
Facebook: @devilsdesireofficial
Instagram: @devils_desire_epicmetal
Bandcamp: https://devilsdesire.bandcamp.com
E-Mail: info@devilsdesire.eu