Country: USA
Genre: Groove Metal
Tracklist:
01. Trouble (Bonus Track) 
02. Fake 
03. Top Of The World 
04. Sham Pain 
05. Blue On Black 
06. Fire In The Hole 
07. I Refuse 
08. It Doesn't Matter 
09. When The Seasons Change 
10. Stuck In My Ways 
11. Rock Bottom 
12. Gone Away 
13. Bloody 
14. Will The Sun Ever Rise 
15. Bad Seed 
16. Save Your Breath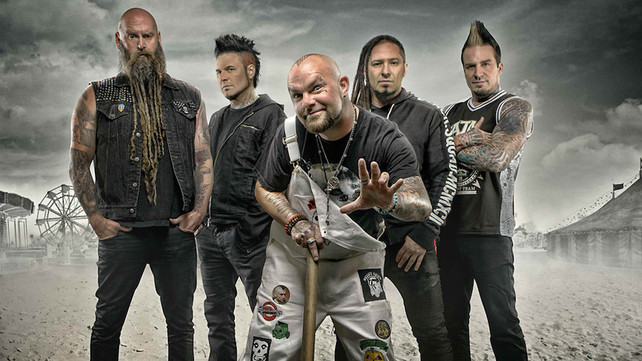 FIVE FINGER DEATH PUNCH will release its seventh full-length studio album, "And Justice For None", on May 18. The long-awaited collection is available for physical pre-order today in the following formats: standard physical CD (13 tracks), deluxe physical CD (13 tracks + 3 bonus tracks + deluxe artwork), Vinyl (13 tracks + 3 bonus tracks + deluxe gatefold artwork). The band is also offering fans a variety of new CD/merchandise bundles. The digital album pre-order for "And Justice For None" will launch on April 6. Fans who pre-order the new album will also receive an exclusive ticket pre-sale code for FIVE FINGER DEATH PUNCH's just-announced 32-date North American summer co-headlining amphitheater tour with BREAKING BENJAMIN.
Band Members
Ivan – Vocals ::: 
Zoltan – Guitars :::
Jason- Guitars :::
Jeremy – Drums :::
Chris – Bass :::