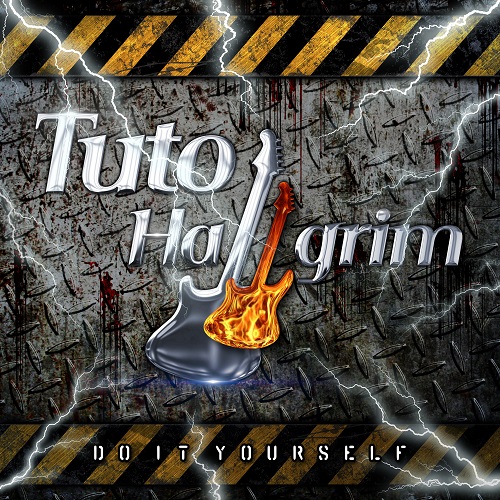 Guitarist Tuto Hallgrim released his first solo album, in November 2019, called "Do It Yourself"
There are 10 songs instrumental, based on Metal strands. They were recorded in his home studio, in the city of São Bernardo do Campo, and all
production and execution was done by the musician, where in addition to guitars, he played the bass and programmed the drums.
His interest came from a young age, influenced by his mother, piano teacher, and with the arrival of KISS to Brazil in 1983. Tuto took his first guitar lessons in 1986, moving on to
guitar 3 years later, influenced by bands like: Black Sabbath, UFO, Metallica, Iron Maiden, Kiss and Rush.
He started teaching private guitar, guitar and bass lessons in 1992. He lived in the city of Marília-SP until the age of 26, where he participated in bands with varied genres.
In 1999, he moved to São Bernardo do Campo and the city of São Paulo, studied with several teachers.
He was featured in 2013, in Guitar Player Brasil magazine (edition of January) in the section: "WEB Highlights".
The musician says he is eclectic, as he has been studying Jazz for years, but his true passion has always been Heavy Metal, that's why he's dedicating his first album to the heaviest style.
The album is called "Do It Yourself" and it has a great repercussion, having review in Roadie Crew magazine, and on specialized sites like Metal in Lata and Headbanger News,
7thlevelmusic (USA), on Facebook and Instagram profiles. An interview was published in Jornal Diario do Grande ABC, Heavy magazine Mexico Riff and also on you tube channels
(Web Rádio Rock – June 2020 and Heavy Rock Hard Radio – August 2020).
 It is being played on several web radio stations in Brazil and in other countries such as:
Argentina, Bolivia, Chile, Colombia, Ecuador, Spain, United States,  France, Italy, Mexico, Paraguay, Peru, Portugal, Uruguay, Venezuela.
The album is available on all digital platforms.
Want to know more, visit the website: https://tutohallgrim.wordpress.com/  
To purchase your album online: http://store.cdbaby.com/cd/tutohallgrim