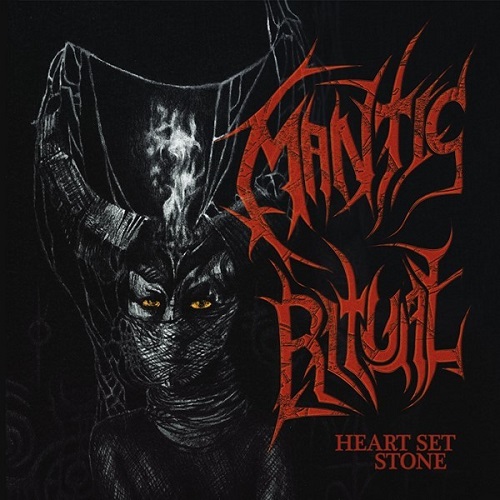 Sept. 2nd Mantic Ritual will release, "Heart Set Stone," a 6-song collection of 3 originals and 3 covers, including the aforementioned in addition to renditions of classics from British hardcore originators G.B.H. and Canadian thrash legends Razor. Pre-order CD and limited-edition (100) cassette versions at www.smarturl.com/manticritual.
"OK! The Mantic Ritual EP has an official release date. Excited? We figure you'll find plenty to do before physical copies are in-hand, but for all the hungry thrash maniacs, we hope it'll bounce around in the back of your mind," comments Dan Wetmore. "SIx tracks, three original, three covers. It'll contain 'Crusader' and 'Black Funeral,' but the rest are virgin Mantic recordings. This is a diverse EP. And you can hear the bass. And the leads are the best yet. And the covers are 100% the exact shit that helped start Mantic Ritual in the first place. It's like blasting forward, with the choice bits of the past attached to big, heavy chains. And keep in mind, we have the future full-length written entirely. This EP is the beer before the burger, the weed before sex… It's a six-song EP offered on compact disc and cassette tape. This is high technology for late '80s fans. Hope you can handle it!"
The early beginnings of MANTIC RITUAL were birthed in the band's hometown of Pittsburgh in 2005. Performing initially under the name Meltdown, the group began building a buzz with Northeast heavy metal fans over the next two years with their combination of boundless thrash enthusiasm and superb songsmanship. The band moved across the country to Los Angeles in 2007, where performances alongside leaders of the budding Southern California thrash revival such as Warbringer, Fueled By Fire, and Merciless Death earned them attention from discerning metal audiences and a record deal with Nuclear Blast Records.
The group soon changed their name to MANTIC RITUAL, and released their first – and so far only – full-length record "Executioner" in March 2009. The album received critical acclaim at the time of its release, with MetalSucks praising the band's "ability to display solid songcraft while maintaining a high-level of heaviness," Blabbermouth taking note of their "passion, chemistry and intensity," and the Washington Post noting that "MANTIC RITUAL's old-school sensibilities act like a group hug that brings punks and headbangers together."
MANTIC RITUAL followed up the release of "Executioner" with live touring alongside heavy metal titans such as Rotting Christ and Destruction, before dissolving in 2010. Potts and Mottsman later went on to join Warbringer for their 2013 release, "IV: Empires Collapse," with Potts himself also performing on Gygax's 2018 release, "2nd Edition." Potts, Mottsman, and Wetmore began writing and recording new music together – with Cruz now joining them on drums – in the beginning of 2021.
More information will be unveiled in the months to come by M-Theory Audio and at www.facebook.com/manticritual.
MANTIC RITUAL is:
Dan Wetmore (vocals/guitars)
Jeff Potts (guitars)
Ben Mottsman (bass)
Carlos Cruz (drums)
For more information:
www.facebook.com/manticritual
www.instagram.com/manticritual
https://manticritual.bandcamp.com
www.m-theoryaudio.com