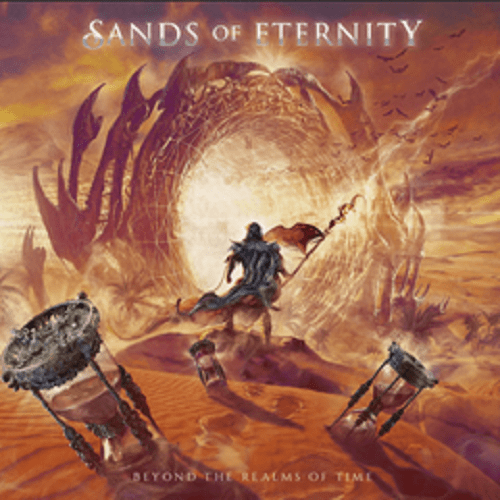 Bob Katsionis' Symmetric Records proudly presents the debut album of heavy / power metal band Sands Of Eternity.
Sands Of Eternity are an evolution of Hourglass Sands Of Eternity, most commonly known as Hourglass SOE, that were originally formed in Athens – Greece back in 1996. Hourglass SOE after two demos released their first – and last – album ("Journey To Infinity" – 2002) and afterwards broke apart.
Nevertheless the guitarist and main composer Ioannis Ioakimides continued to write heavy / power songs in the following years until enough material was accumulated capable of covering the ground for a new album.
Alongside, some seeking around of Hourglass SOE traces on the web that brought back memories and some impressive results in the likes of the album of the band being sold for more than 600$ online as well as a thread in a forum speaking for the band with warm words, led Ioannis Ioakimides to seek ways to record his new material. Thus Sands Of Eternity were born from the ashes of Hourglass SOE and along with singer Michael "Dice" Papadakis and producer Bob Katsionis, Ioannis Ioakimides set forth to record the new album consisting of 10 new songs, keeping the spirit of true heavy /power of the former band but also evolving in terms of sound, lyrics, musical compositions and aesthetics.
The end result is the debut album of Sands Of Eternity, "Beyond The Realms Of Time" which is finally a finished work!
The music is highly influenced by legendary heavy / power metal bands such as Warlord, Helloween, Hammerfall, Kamelot, Stratovarius and Judas Priest.
Artwork was done by the fantastic Uwe Jarling ( www.jarling-arts.com ) depicting a passage through time, marking the transition of the band from the old to the new era.

Following the policy of other Symmetric Records releases, "Beyond The Realms Of Time" is not going to be fully available through any streaming service (like Spotify or iTunes etc.) and can only be ordered directly from Symmetric Records' Bandcamp website in digital or physical form on a Deluxe Digipak CD with an 8-page booklet here:
https://sandsofeternity.bandcamp.com/
Facebook Page: https://www.facebook.com/SandsOfEternityOfficial
Instagram: sands.of.eternity_official
"Shadows Of Light" [Lyric Video 2022]
(Watch it here)
TRACKLISTING:
1. Still Awake 
2. Enlightened (Mighty Warrior) 
3. The Hitman
4. Faded
5. Red Flag 
6. Desire
7. Shadows Of Light
8.  A Different Way
9. So Far Away (A Soldier's Cry) 
10. Beyond The Limits 
All Music & Lyrics by Ioannis Ioakimides

LINE UP:
Ioannis Ioakimides: Guitars 
Michael "Dice" Papadakis: Vocals 
Thanassis Skoutelis: Bass 
Vangelis Kalentzis: Keyboards 
Michael Skoutelis: Drums 
Kostas Nanos: Guitars 
CREDITS:
Produced and mixed by Bob Katsionis
Recorded Feb-Nov 2021 at Sound Symmetry Studio, Athens, GR
Keyboards by Bob Katsionis
Mastered by Nasos Nomikos at VU Productions, Piraeus, GR
Artwork by Uwe Jarling ( www.jarling-arts.com )