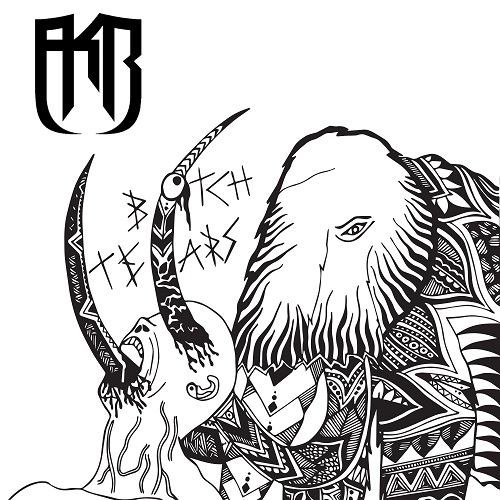 Active in the UAE's underground scene since 2008, AKB released its first full-length album, "A Violent Asymmetry," in 2016 on all streaming platforms and has since then opened for several renowned international acts, including Paradise Lost, Ektomorf, Steel Engraved, and Space of Variations.
In 2021, AKB signed with the first Iranian Metal Label "Tough Sounds" to release their new singles, starting with B1tch Tears. The song brings them back with a more single-minded message – Fuck. You. It showcases creative expression within the constraints of pure aggression, banishing harmonies and the pretension of a deeper meaning.
AKB's new single B1tch Tears sees the band pushing the envelope on the angst they grew up on. AKB drummer Ziad Baig noted,
"There was definitely a stylistic approach to this one that we hadn't quite shelled out in the past. We were all in vulnerable places in our lives. Coming back had to mean something. So, we came back to say, 'fuck you.' We got over the whole 'Fight the System' shit—no more introspection through sing-song verses. The restrictions were going to be reason for our voice. Attitude from start to finish. Mind you; we got artsy with it."
Musically, the band transitioned to minimalist riffs, out-of-the-box basslines, single-kick heavy grooves, and barking its feelings into the mic – something that may be described as "Urban Hardcore, but not really". The song drills in groove after hook after groove, shaping its aesthetic by serving the listener one emotion – anger. Ziad continued,
"We used to care about being 'radio-friendly.' This time, we went with honesty. This time, it really was about the art. The 'deeper meaning' behind things started to lose shape. It wasn't what we were saying that mattered – it's how we said it. Which made it the most fun we've had writing something. We were fixated on therapising ourselves through this one."
With a more seasoned and personal approach, the band proves that this is a 'comeback' track in every sense of the word and plans to show fans more of their unadulterated rage-driven music in 2022.
AKB Lineup:
Ahmed Bachari – Vocals
Salman Sheikh – Guitars
Joshua Joseph – Bass
Ziad Baig – Drums
Find Alpha Kenny Buddy On:
https://www.instagram.com/akb_official/
https://www.youtube.com/channel/UCe5cJZNISUhHe1YW3VzlbMA
https://open.spotify.com/artist/1c0uju63mMi5dC2jhUSzIv
https://toughsounds.com/artists/alpha-kenny-buddy