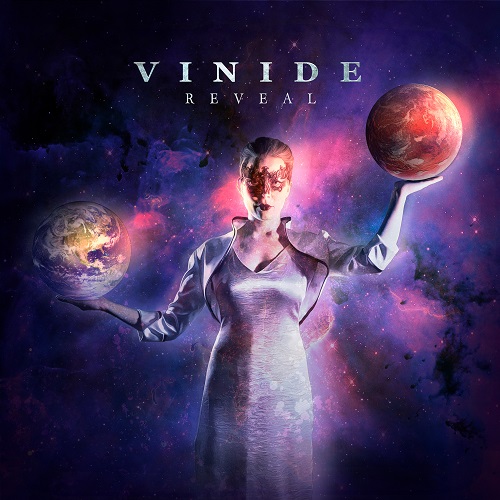 Release Date: January 26th 2018
Record label: Inverse Records
Genre: Symphonic Metal
Country: Finland
Tracklist:
01. Intro
02. The Beginning Scene
03. Breakout
04. Reveal
05. Anger
06. The Rat
07. Plea
08. Emanuel
09. The Truth
10. The Plan
11. Believe
12. The Bombs
13. Another Dimension
14. The Great Voyage
15. Save The Earth
Symphonic Metal group VINIDE releases their new album "Reveal" 26.1.2018. In the year 2003 the band played its first notes and this the third album in the history and together with Ep releases the eighth release within the whole discography. 
Vinide's spontaneous work continues in a form of a full length concept album. The band has made their sound bigger, punchier and wider throughout an experimental work after the previous releases (The last "Odes For Thoughts" , 2014). Still, the music has its original line in the composing and arranging work. 
The composing of the new album begun in spring 2015 when Elmeri Kinnunen (Vocals&guitars) came up with an idea of science fiction story. Very quickly the band was handling their first concept album. After a very fast process of composing the recordings of the album begun in December 2015 at the famous Musiikkituottaja Studio, Kuhmo, Finland. After all the work stretch 1,5 year long and during the time the band tighten up into four-member group and decided to continue without a bassist. The recording itself happened in a schedule formed by the band itself and was really easy going but still very determined. 
"Reveal" is a science fiction story about a large information technology company "OMEGA's" former employee who finds himself locked in a mental asylym and is even sentenced to death. After he escapes the asylum he starts to find out what is really going on and what is the biggest interest of OMEGA's artificial intelligence project. The fears of the future seem to come true meanwhile the humankind is driving itself towards definite termination. The story goes on and a lot of plot twists are going to happen. How big is the urge to create something that humans don't fully understand? What is going to happen to our hero during his journey finding out the origin of everything. 
Recording, mixing and producing the whole album Elmeri Kinnunen also has composed the pieces in collaboration with guitarist Mikko Kähkönen and keyboard player Heikki Polvinen. The final touch was given at Finnvox Studio by Mika Jussila mastering the album. Cover art is by Petri Lampela. 
Discography:
Vinide – Album 2007 
The Puzzle – Ep 2008 
Into The Waters – Ep 2010 
Odes For Thoughts – Album 2014
Reveal – Album 2018
Line-up:
Elmeri Kinnunen – guitars, vocals 
Mikko Kähkönen – guitars 
Heikki Polvinen – keyboards 
Jaakko Juntunen – drums 
Links:
http://www.vinide.com
https://www.facebook.com/vinideofficial
https://twitter.com/Vinideofficial
http://youtube.com/VinideOfficial