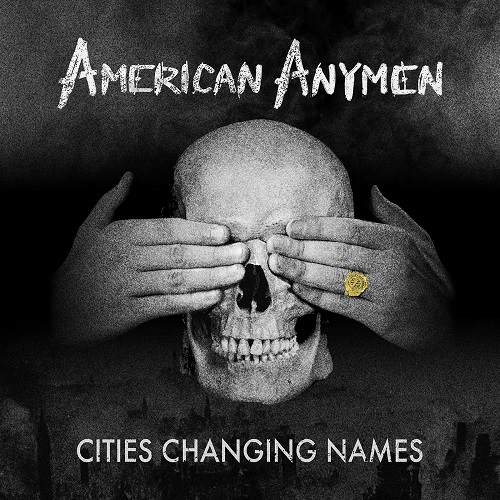 Watch the new "Fentanyl Death Kiss" music video via YouTube, and stream the single on Spotify, Apple Music, Pandora, Amazon Music, Tidal, and Deezer
 
New LP album Cities Changing Names scheduled for release on June 10, 2022. Pre-order / Pre-save at this location
Via Eclipse Records (NEW YORK, NY): Eclipse Records is elated to announce the signing of antifolk industrial metal band American Anymen to an exclusive worldwide deal! The band was originally started in 1999 by Brett Sullivan as a video project with roots in the New York antifolk scene, and recently leapt into the industrial metal genre. The band have just revealed a lyric video for their new single "Fentanyl Death Kiss", as well as announcing the availability of pre-orders for their upcoming twelfth studio album Cities Changing Names which is set to drop worldwide on June 10, 2022.
American Anymen's new LP entitled Cities Changing Names is an album of sonic violence and unbridled energy. Each of the eleven songs on the album are a burst of power that features a sort of pristine mechanization wearing a cloak of raw, human tragedy. This sweet dichotomy is both elegant and hard core, addictive and welcoming. The musical presentation itself is based on this technique of pairings reversed in no clearer a manner than the production of the drums versus the vocals. The "norm" would have the hummingbird 16ths deep and resounding, the snare rich and reverberant. In turn, the vocal would be "up close," like the "presence" we all enjoy face to face, in that intimate moment right before a kiss. Here, American Anymen turn that on its head, presenting the drum sounds in your face and at the very doorstep of your heart, close enough to touch, while making the vocal echoed, distant, haunting, and mysterious. Each track raises the level of the game in terms of brute force and fireworks, and the listener comes away feeling potent and strong.
Pre-order / Pre-save Cities Changing Names at https://ffm.to/citiescn
 
For more information on American Anymen, please visit them on Facebook, Twitter, or Instagram, and follow the band on Spotify, Apple Music, Pandora, Tidal, Amazon Music, and Deezer now!
 
American Anymen discography
Plaza Suite (LP) – 2020
Start My Center (LP) 2016
Destroy Interesting (EP) 2014
Social Realism (LP) 2014
Land of the Fee (EP) 2012
22 (LP) – 2005
Anxiety (EP) – 2004
Kill Your Neighbors (LP) – 2003
Propoganda (EP) – 2002
Hello (EP) – 2001
Orig. 4 Trk. Rap (LP) 1999
 
American Anymen lineup
Brett Sullivan (vocals, guitars, violin, bass), Scott Fragala (bass), James Knoerl (drums)