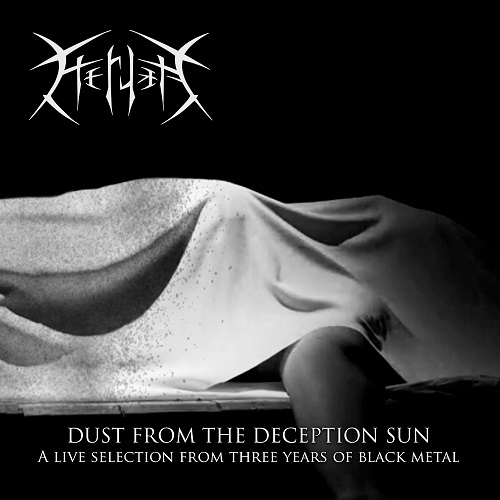 Rude Awakening Records' next release will see the continuation of the collaboration with HERUKA: after publishing their latest full "No Sun Dared Pass Our Windows" last year, the label and the long estabilished Black Metal band from Rome have worked on a celebratory footage of the most recent activity years of the band, that will appear in their next release "Dust from the Deception Sun – A Live Selection from Three Years of Black Metal".
This release will contain an intense filming session, including more than one hour of video material shot at the Boiler Studio (Rome) and songs taken from the latest albums of the band, marking a stable return in the Italian Metal scene: "Deception's End" (2018), "Turning to Dust" (2019) e "No Sun Dared Pass Our Windows" (2020).
This footage will see the light as a strictly limited edition of 50 blu-ray copies and 50 DVD copies, including the following tracklist:
1. Intro
2. Turning to Dust
3. Amsarctra: Nekrom's Rescue
4. No Sun Dared Pass Our Windows
5. Feerduim: The Premonition
6. Near the Worms, Far from the Light
7. Chailosis: The Revelation
8. Twisted into Form
9. Zoryas: Emhos' Army
10. Spleen
11. Bethuria: The Three Entities
12. The Eleventh Rule
13. The United States of Insanity
14. Two Heads, One Brain
15. Coisomo: Deception's End
16. Let No One Be Saved
17. Time Collapse
18. White Coats Don't Understand
19. Unreal Consciousness (outro)
The release date for "Dust from the Deception Sun" is set for 20th November 2021. Here's the intro teaser:
This footage is the first of many news coming from the band, that will be revealed soon.
HERUKA is:
Adranor – guitar
Nekrom – vocals
Nemuri Shi – drums
Moha – bass
You can find Heruka on:
Facebook: https://www.facebook.com/Herukaproject/
Bandcamp: https://herukaproject.bandcamp.com/
Soundcloud: https://soundcloud.com/herukaproject
ReverbNation: https://www.reverbnation.com/herukaproject
You can find Rude Awakening Records on:
Facebook: https://www.facebook.com/rudeawakeningrecs/
YouTube: https://www.youtube.com/channel/UC0w7FXlsO_uyvnI1gdUxU-A
Soundcloud: https://soundcloud.com/rudeawakening_records
Website: http://www.rudeawakening-records.blogspot.com/