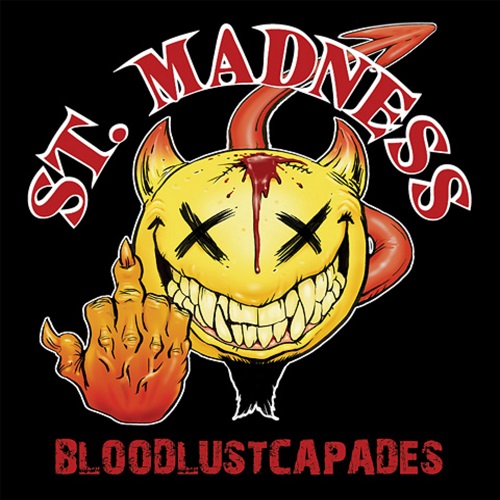 ST. MADNESS started in 1993 and is based in Tempe Arizona USA – Here is a brief Bio about the band.
ST. MADNESS started in 1993 under the name "Crown Of Thorns" but in 1997 we found out that there was actually a christian rock group in New Jersey that had trademarked the name back in 1991 two years before we started to use it.  The CD we had out at the time was called, "The Spiritual Visions of St. Madness" so Marge our manager and my lady and I did a worldwide search with our attorney to see if anyone had the name, "ST. MADNESS".  It was available so we trademarked the name on the spot and have been "ST. MADNESS" ever since.
Our current CD entitled, "BLOODLUSTCAPADES" was released in March of 2018 and is the bands 11th full length CD.  Over the years we have had a number of very talented members in the band, I am the founder and my stage name is "Prophet".  I am the vocalist and write all of the lyrics and I produce all of our records and most of them with Mr. Larry Elyea who I have worked with since 1996.
On Saturday September 22nd 2018 we celebrated our 25th Anniversary by putting on a very special concert where former members of the band came back and performed with us on stage.
The band is based out of Tempe, Arizona USA.  We have opened for or been on the same bill as Van Halen, Monster Magnet, Gwar, King Diamond, Merciful Fate, Flotsam and Jetsam, Sacred Reich, Atrophy, Lynch Mob, Fates Warning, Phil Lewis, Six Feet Under, Death, Destruction, Iced Earth, Black Oak Arkansas, The Misfits and D.R.I etc
St. Madness performed at the 12th & 13th iconic "Milwaukee Metalfests" in 1998 and 1999.
In 2013 our CD entitled, "CARNIMETAL" received the "Los Angeles Music Award" for "Metal Album of the Year".
In 2014 – ST. MADNESS was the only metal band included in the "TEMPE HISTORY MUSEUM'S" exhibit called, "THE TEMPE SOUND" that was up for a year.
Along with this email I have sent the new "BLOODLUSTCAPADES" CD cover and the poster we had made to promote the new CD as well as our label "NASTY PRICK RECORDS" logo.
Our music can be found on "Spotify" – iTunes" – "Band Camp" – "Reverb Nation" and iHeart Radio" as well as many other sources including YouTube.
We have done all of this by ourselves and on our own label, "NASTY PRICK RECORDS".