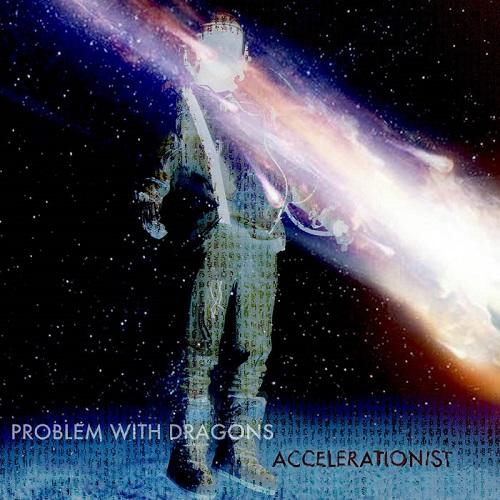 Problem With Dragons is announcing the arrival of their latest album, Accelerationist. This is a full length album written and recorded by Problem With Dragons over the past year in Easthampton Massachusetts at Rock Valley Studio/The Ohm. The desired effect of this album is to make the listener feel as though they are hopelessly accelerating toward their demise, at the hands of those they most trusted, all while in the infinite vacuum of space.
Rooted from Easthampton, Massachusetts in 2007, Problem With Dragons execute heavily fuzzed-out, unrestricted music. A meaty stew compiled of equal parts Stoner Metal, Sludge, Punk, Doom, Grunge, and Heavy Metal, with a heavy dash of Prog Rock.
Their debut EP release 'Atomics' arrived in 2012, followed by the 2015 full-length 'Starquake', and with the recent sophomore album 'Ascendant' released in 2019, the band creates discordant noises, turbulent riffs, and oscillating rhythms. It really shouldn't work at all… yet it forgoes confusion and entwines to a uniquely rich, atmospheric tapestry, as Problem With Dragons enforce a sound full of conviction and style.
Presale's for the Digital Download and CD versions are currently active at our Bandcamp. The album release date is JUNE 23, 2022.
—Vinyl Release—
The vinyl has been ordered. It is a limited pressing of 200 on 180g Black Vinyl in a Shrink-Wrapped Full-Color Sleeve but with current waiting times for pressing who knows when we will see them? Once we have a definite shipping date for the vinyl we will add them to our Bandcamp merch booth.
—Appearances—
6.26.22 – Maryland Doom Fest – Frederick MD
7.28.22 – Dobbs – Philadelphia PA
7.28.22 – Ohio Doomed & Stoned Fest – Canton OH
7.29.22 – Macky's – Buffalo NY
—Links—
Bandcamp: https://problemwithdragons.bandcamp.com/
Spotify: https://open.spotify.com/artist/0UJtCfi9lT3GmCBAUI4yGT?si=r44QI8mcStKK62wlG8awqA
Apple Music: https://music.apple.com/us/artist/problem-with-dragons/383518369
Facebook: https://www.facebook.com/problemwithdragons/
Instagram: https://instagram.com/problemwithdragons
Twitter: http://twitter.com/pwithd