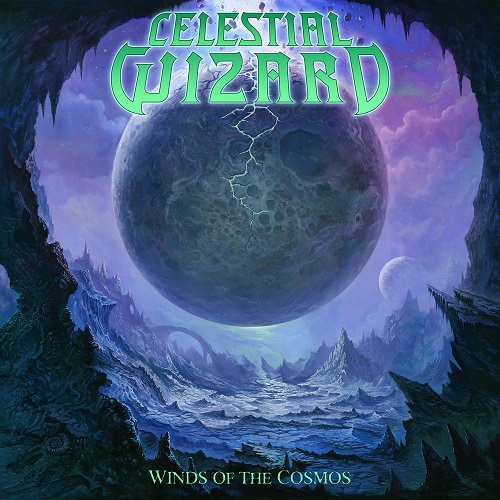 Combining their passions of Dungeons and Dragons, space adventure, and fantasy, Denver, Colorado's Celestial Wizard takes influences like Arch Enemy, Metallica, Firewind, and Turisas and forge a path all their own! They have their second album coming out this year on July 15th, the fantastical and fun-filled "Winds Of The Cosmos".
Modern and melodic, this album will be a breath of fresh air for Celestial Wizard's existing fans as it is a massive leap forward in production quality and musicianship, being their most cohesive, collaborative work to date. New fans will be enticed by catchy, nerdy choruses overlaying the melodic death metal riffs. Their fire and passion are evident in both the single and the album, making it hard to sit still for this one. Celestial Wizard will be enjoyed by nerds of all kinds and especially fans of Dark Tranquillity, Firewind, and Amon Amarth.
"Winds Of The Cosmos is a veritable blend of power metal and death metal. The songs combine crushing and aggressive vocals with a thrashy and melodic style of guitar playing. The drums are clear and punchy and give a solid foundation and framework for the music to thrive. All these elements together create something new and unique in its own right, blazing a new trail of melodic heavy metal.
The album's lyrics guide the listener through a choice mix of fantasy and sci-fi themes, ranging from frosty Dungeons and Dragons excitement to space travelers and black holes. The lyrics also delve into personal struggle and growth, allowing fans to connect with the music on a deeper level." – Celestial Wizard
—
ASHER MEDIA RELATIONS
Jon Asher – Music Publicist
#.514.581.5780 | jon[@]ashermediarelations[.]com
Facebook @AsherMediaRelations | Instagram @AsherMedia | Tweet @AsherMedia
(Rockshots Records, Extreme Metal Music, Armstrong MF, Loud As Hell, Metalocalypstick, Decimate MF, Electric Highway Fest, Wacken Metal Battle Canada/USA, Hyperspace MF, Le FestEvil)