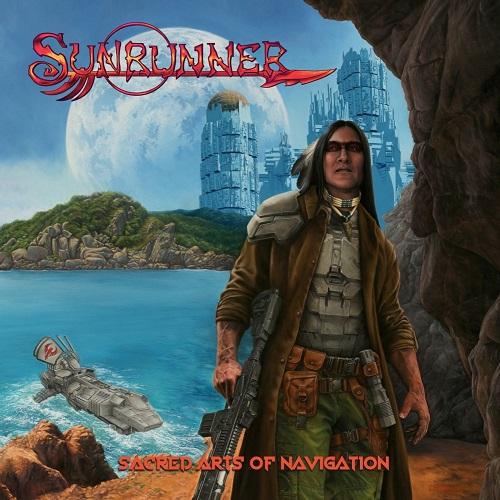 SUNRUNNER is an American band which exist on music scene since 2008. After releasing four full albums: Eyes of the Master (2011), Time in Stone (2013), Heliodromus (2015), Ancient Arts of Survival (2018), band in cooperation with label Fastball Music released fifth full length titled "Sacred Arts of Navigation".
Music was mixed by Marcus Jidell – leader of Avatarium (ex-Evergrey, ex-Royal Hunt) who produced music for Candlemass and HammerFall. Album was mastered by Pat Keane at Pat Keane Mastering. Cover artwork was done by Jan Barlow.
ALBUM CREDITS:
Drums, bass and guitar recorded at Acadia Recording March 2020, Portland Maine by Todd Hutchisen, Marcus Jidell and assisted by Jimmy Martignetti
Vocals recorded throughout 2020 at Stone Studio, Frutal, MG Brasil. Produced by Lucas "Boris" Heitor.
ALBUM COMMENTARY
"Sacred Arts of Navigation became what it is about halfway through its completion. What we were realizing was the songs on this record, lyrically we're in a similar vain to the previous record, 'Ancient Arts of Survival'. The idea that in the future, mankind will look to the old ways of survival to benefit our race. Or, if the world ever shifts to an apocalyptic future, these primitive survival skills would probably be the most useful tool people could inherit. Either way, in the future, there is this interesting mix of ancient skills and futuristic technology. But, like the previous record, it is not a concept record. Rather a collection of songs that share some similar themes. All songs stand alone.
The difference was that as the lyrics were coming together, there seemed to be a handful of songs that took place in the ocean. Whereas 'Ancient Arts…' seemed to have a cool autumn woods feeling, this one was shaping up to have a warmer, summer water adventure vibe.
Once the album started sharpening its focus, we send our ideas and sketches to Jan Barlow, the artist. He came up with the album cover you see now. Once we got it, we thought it was so similar to the previous record with the Native American future warrior on it, (Of course we loved it too!). From the album cover, to the lyrical themes and even having the same line-up, we thought this album was kind of a continuation of the prior. So we gave it the title 'Sacred Arts of Navigation' to purposefully reflect the similarities of the two albums.
Another similar aspect is the production of the two records having a raw, live sound to it. The previous record was tracked by Todd Hutchisen and mixed by Jimmy Martignetti. This time we were grateful enough to have Marcus Jidell (Avatarium, The Doomsday Kingdom), fly over from Sweden and track it with both Todd and Jim. Marcus mixed the album the next year. We are very happy with it!
LINEUP:
Joe Martignetti – electric and acoustic guitars, bouzouki, backing vocals
Ted MacInnes – drums, percussion, backing vocals
David Joy – bass guitar, backing vocals
Bruno Neves – lead vocals
Guest musicians:
Marcus Jidell – slide guitar solo on 'Dragonship', backing vocals on 'Where Is My Home'
Frank Navarro – bass guitar on 'Promise Of gold' and a few parts on 'Navigating The Apocalypse' 
SOCIAL MEDIA
Facebook | Bandcamp | Spotify | Youtube | Website