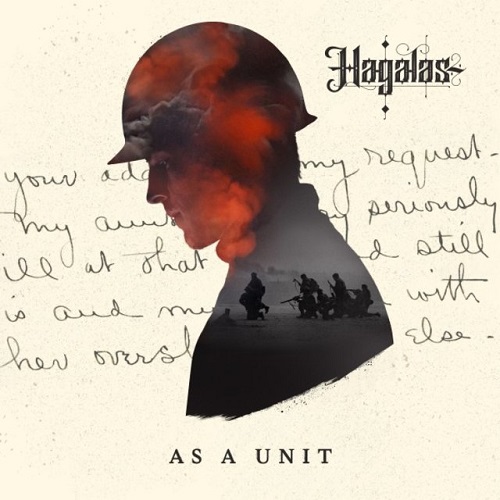 The melodic death quintet Hagalas from Jyväskylä Finland, are publishing their second EP in April 4th 2022. Thematically the EP follows the already published single Destination: Genocide, being very topical regarding the current world situation. War, refugeedom and the struggle of humanity are mirror images of the songs to be published. The release contains four songs, including the month ago published Destination: Genocide, which recieved great overall ratings and media feedback.
New lyric video As a Unit is also released today and it's available here: https://youtu.be/J3MkFv3CGzc
The band comments:
"As A Unit, the title track, paints a picture of war and brotherhood. Focusing on how a single combatant cannot make a difference. How you fight and die as a unit. The song also makes note of the scars you receive in war. And they are for life. An official lyrics video has also been released for the title track.
The EP also contains the songs Rampant and Animal Farm, from which the former sends a message to the oppressor not to get used to unconditional power. Revolution and reprisal for freedom are inevitable. Animal Farms message is that you are living your life as a faceless slave, your worth measured in taxes paid per critical questions asked. Embracing the invisible shackles. Thanking your tyrant with a wide smile and tightening the blindfold as you step over the edge. Desination: Genocide describes the consequences of people sitting on their hands, while society spirals to dystopic totalitarianism. Picturing life is good, while standing on an invisible conveyor belt, eyes shut, trusting autocrats to decide what is best for all."
Listen to As a Unit EP:
Bandcamp: https://hagalas.bandcamp.com 
Spotify: https://spoti.fi/35FUgHK
Apple Music: https://apple.co/38dd4yL
Amazon: https://music.amazon.com/albums/B09RTGPJ7G
Tidal: https://listen.tidal.com/album/215328726
Deezer: https://www.deezer.com/us/artist/14340141      

With the publishing of the EP Hagalas goes on a live tour.  
18.4. Lappeenranta, Musta Wappu, Kellari
18.5. Helsinki, Bar Loose
19.5. Jyväskylä, Ilokivi
20.5. Kuopio, Ottopoika
21.5. Tampere, Varjobaari  
The live shows are carried out with Shadecrown (FIN), Veriteras (Seattle, USA), Soulglass(FIN) and Warfarer (FIN).  

As A Unit EP was recorded in the Fall of 2021 in an old cottage at the shore of Lake Päijänne with Samuli Raappana from Tuuliajo in charge of recording and mixing. The EP was mastered in Sweden by Tony Lindgren from Fascination Street Studios. The songs themselves are composed and arranged by Hagalas.   
Our method for songwriting is to gather up to the musical man-cave and start playing. Due to these test-sessions and countless hours of input, the band is in peak performance and ready to bring in the show, which you can measure yourself by coming to the live concerts this spring!
Hagalas is:
Kalle Korhonen, growls and vocals
Antti Huovila, guitars
JM Helenius, guitars
Ville Uimi, Bass
Teemu Kankainen, Drums